Wooden Drascombe Builder
Norman Whyte (Quality Boats) Ltd
Article reproduced from Classic Boat 1989 (with permission)
---
PROFESSIONAL WOODEN BOATBUILDING
Through the long winter months Jenny Bennett has been looking around for small boats to review this summer and during her search she came across a Scottish company who have recently started building a new boat in the Drascombe range. Norman Whyte (Quality Boats) Ltd. is a small company which has been developed from a family business building traditional Scottish salmon cobles and although they still build for the salmon fishing community, most of their work now centres on pleasure craft.
The latest boat out of the yard was requested by a Fife sailor, Malcolm Sterry who, having sailed a Drascombe Dabber - a 16' (4.9m) open dayboat with a standing lug main yawl rig - decided he wanted a similar boat but in wood. As there were no plans for a wooden Dabber, Norman Whyte got in touch with the Drascombe designer, John Watkinson and a new boat was drawn up. Being slightly different from the original, John asked that Mr Sterry's boat be given a different name and so she has been fondly christened the Dipper.
As with all the Drascombe boats that Norman Whyte builds, the Dipper is constructed in high quality marine plywood, iroko and Oregon pine and is glued and finished with epoxy resins. NWQB Ltd tell me that not only does the new Dipper look pretty, she sails beautifully as well: hopefully Jenny will be able to get up to Scotland later in the year to give her verdict.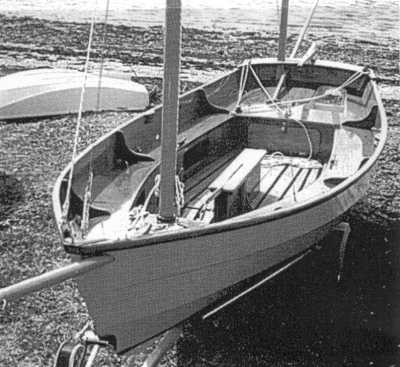 Back to Norman Whyte